Hinstock 10K & Fun Run - Sunday 23rd September 2012
Go On Challenge Yourself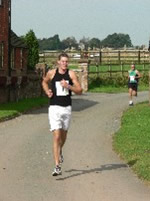 The committee would like to thank everyone who helped out on the day, the sponsors who gave both money and prizes and also thank all the runners for turning up and running the courses. We couldn't have done it without all your time and efforts.
Many thanks!
Race Results
Pre Race Press Release
Hinstock is beginning to buzz with preparations for the annual 'Hinstock Hurtle' and 2K Fun Run. September 25th is getting ever closer and the roadside signs have already appeared alerting all passers-by to the big event.
This year, in a break with tradition, the 'Hurtle' has grown from 5K to 10K and takes a different route around the area. It is one that will challenge the keen runner and give those less highly trained plenty to distract themselves with! The Fun Run remains just that at 2K and always appeals to kids and their parents and gives anyone who would just like to have a go the opportunity to do so.

The Hinstock Hurtle & Fun Runs will raise funds for the Severn Hospice and refurbishment of the Hinstock Tennis Club courts. This year the event takes place on Sunday September 25th and is held in conjunction with Newport & District Running Club. To encourage younger runners, the club is sponsoring a special prize for the best Primary School team this year.
As usual there will be a full program of entertainment and refreshments to keep the whole family happy and involved from when check in opens at 09.30 until well into the afternoon. Breakfast refreshments, Bouncy castle, cake stall and lunch time BBQ with live music from local band Arcade Parade should be enough to keep all amused and sustained. There will certainly be a lot of fun on offer and all in a good cause!
Two runs will take place; a 1 mile family fun run for any age and any ability starting at 10:30 and a 10K run which is open to over 16s and is attracting the more serious runner and will start at 11:00 - both runs are multi-terrain, scenic, country runs. Registration can be made in advance (please use this facility if possible to avoid long queues) or on the day from 9:30.
Entry fees for the 10K race are £7.00 for Athletic club members, £9.00 for runners unattached to a club and £10.00 for entries on the day (subject to the maximum limit of runners being reached). For the 1 mile fun run, fees are just £2 on the day
There are numerous prizes for different categories including best fancy dress.
Refreshments and bacon butties will be available in the morning from 10:00 and a lunchtime barbecue to replace all those lost calories will be held at the Falcon Inn where there will also be face painting and a prize raffle draw.
Additional contact details: